Food for Life Rice Almond Bread
January 1, 2009
I bought a loaf of this bread a few weeks ago. Not only is this bread wheat-free, it is also soy-free, dairy-free, cane sugar, and dairy-free. It's a jackpot for me!
Food for Life Rice Almond bread doesn't have the same texture as wheat bread. It's dense and chewy, very few air pockets. Melted canola oil margarine doesn't really sink into a piece of this bread when it's toasted. The bread also doesn't seem to toast the way wheat bread does. Maybe I just didn't leave it in long enough or maybe that is how this bread is.
Slices are smaller than a traditional loaf of wheat bread, which makes sandwiches smaller than you're used to. The denseness of the bread means you feel just as full after you eat it, though. The taste is excellent, so this makes a very delicious sandwich.
Food for Life has other flavors of their bread that will fit my eating requirements. I can't wait to try them based on my positive experience with this loaf.
Wheat & Gluten Free Rice Almond Bread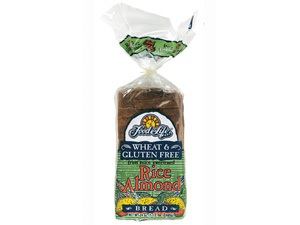 INGREDIENTS: Brown Rice Flour, Filtered Water, White Rice Flour, Fruit Juice Concentrate (pineapple, peach, pear), Almond Meal, Tapioca Flour, Safflower Oil, Fresh Yeast, Vegetable Gum (xanthan, cellulose), Rice Bran, Arrow Root, Herbs.